Consumers of MAHADISCOM / MSEDCL / MSEB can use the web self-service portal to make MSEB online payments. There are two ways to pay MSEB bills online using the MSEB web self-service portal.
They are,
Quick payment without registering and logging in
Online payment after registering
Here, we describe MSEB – MAHADISCOM – MSEDCL online payment – Quick Pay procedure using the web self-service portal without any registration.
MSEB Online Payment Without Registering and Logging In
This is the quick pay method for MSEB/MSEDCL/MAHADISCOM electricity bill online payment. For using this method, a consumer of MSEB/MAHADISCOM/MSEDCL should know two things.
MSEB consumer number
MSEB billing unit ( Click here for a list of all available MSEB billing units )
If you know your consumer number and billing unit, it is so easy to pay the MSEB electricity bill online.
How to find your MSEB / MSEDCL billing unit and subdivision code?
If you don't know your billing unit, you can find it using your consumer number through the MSEB website itself. Click here for detailed instructions.
Follow the below link to visit the online bill payment page
Go to MAHADISCOM/MSEDCL/MSEB online payment page
This is the View / Pay bill page of the MAHADISCOM web self-service portal. For paying your MSEB electricity bill, select your consumer type, fill up your consumer number and billing unit, and click " SUBMIT "
Some more details will be displayed below including your bill amount and bill due date. It can be done at this stage if you want to view or download your electricity bill before making the payment.
For detailed instructions to view or download the MSEB electricity bill, follow the below link.
How to view/download the MSEB electricity bill?
For making MSEB online payment, click " Make Payment "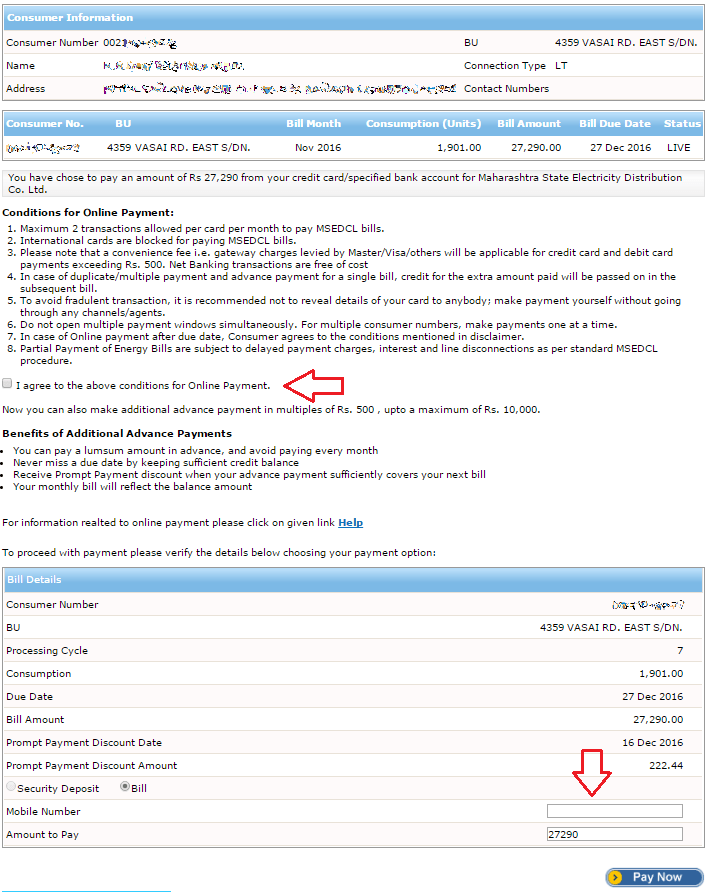 The next page is a confirmation page. You can view your consumer details, consumption, payable amount, etc. on this page. If you decide to continue with the payment, check the " I agree to the above conditions for Online Payment "  checkbox at the center of the page. For payment confirmation through SMS, fill in your mobile number, then click " Pay Now "

On the next page, you can select one of the payment modes for making the payment.
Available payment modes are,
Internet Banking
Debit Cards
Credit Cards
Mobile Wallets
Cash Cards
UPI
If the bill amount exceeds Rs.500, there will be a convenience fee for using Credit/Debit cards.
After selecting the desired payment mode, click " Pay Now "
You will be redirected to the payment page of the payment mode you have selected. Complete the transaction carefully. After completion of the payment, you will get payment confirmation on your mobile number.
How to Check MSEB Bill Payment Status
You can pay your MSEB/MSEDCL in multiple ways. Either using the official website or any other third-party websites or apps such as PayTM, Amazon, Google Pay, or PhonePe. No matter which method you use, you can check the status of your MSEB bill using the official website. For a detailed guide, click here.
How to Download and Print MSEDCL/Mahadiscom/Mahavitaran Bill Payment Receipt?
There are several methods to pay your MSEB electricity bill. Whichever method you use to pay your Mahavitaran bill, you can view, download and print your bill payment receipt using the official website of MSEB. It is simple and straightforward, you can do it either on your computer or using a mobile device.