PhonePe is one of the leading mobile-based, UPI payment platforms in India. You can make payments for almost everything using the PhonePe app. You can recharge your prepaid mobile, transfer money to someone, make payments on online shopping websites, pay your utility bills online, etc. You can use PhonePe to pay your MSEB/MSEDCL electricity bill also. This is a guide to pay the Maharashtra electricity bill using the PhonePe app.
Installing PhonePe App on your Mobile Device
The PhonePe app is available on Google Play Store. It is free, you can download and install it using the below link.

MSEDCL/MSEB Bill Payment Using PhonePe
For making the payment, first of all, open the PhonePe app on your mobile device.
This is the screenshot of the home screen of the PhonePe app. You can see multiple payment options here. For paying your Mahavitaran electricity bill, tap on the Electricity icon under Recharges &  Pay Bills section.
Next, you can see a list of electricity boards and electricity distribution companies in India. Select MSEDC Mahavitaran from the list.
On the next screen, type your MSEB consumer number and subdivision code, then tap Confirm.
( Don't know your MSEB/MSECL billing unit? you can find it using your consumer number )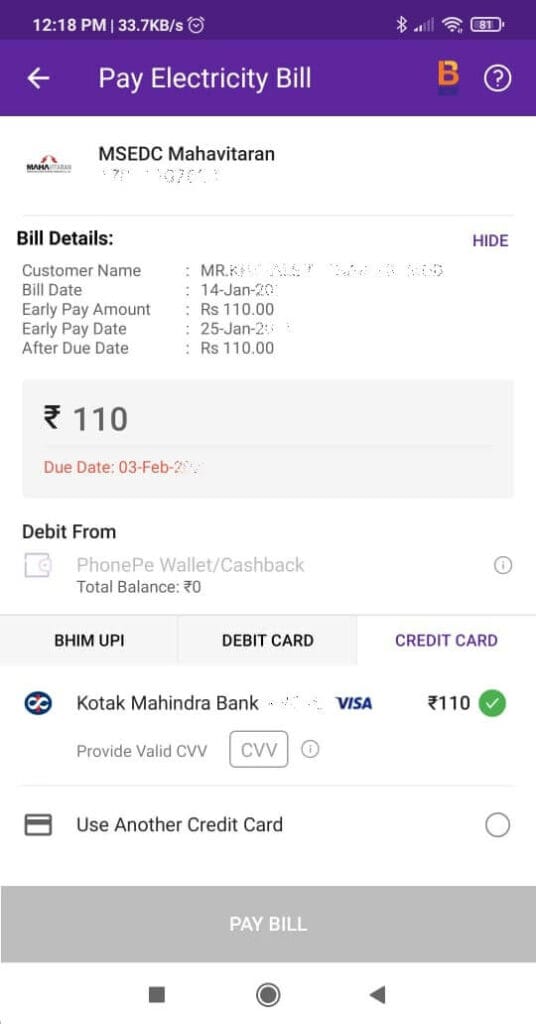 You can now view your payable amount. Before making the payment, make sure that the consumer name and payable amount shown is yours.
MSEB – Phonepe Payment Methods
You can pay your MSEB bill through PhonePe using 3 payment methods.
Debit Cards
Credit Cards
UPI (Unified Payments Interface)
In the above screenshot, you can see two linked credit cards with my PhonePe account. If you already are a PhonePe user and linked one of the above-mentioned payment methods with the PhonePe app,  you can see that here.  Otherwise, you can add one easily here. If you already have a UPI Id, you can use that for making the payment or you can create an id by linking your bank account. Making the payment using your debit/credit card is also possible through PhonePe.
Select the payment method you want to use, fill up the required details, and tap Pay Bill.
You will be redirected to the payment page, finalize the payment there.
Mahavitaran PhonePe Offers – Cashback and Discounts
PhonePe offers discounts and cashback for bill payments all the time. You can get these offers when paying your MSEB bill also. The offers change from time to time, for more details about the offers in PhonePe, refer to their website https://www.phonepe.com or tap on View all offers icon on the app.
Advantages of PhonePe
It is quick and easy
If you enable autopay in the PhonePe app, next time you can pay the bill more quickly.
You can do multiple payments on a single platform.
Payment is secure
Chance to get a discount or cashback